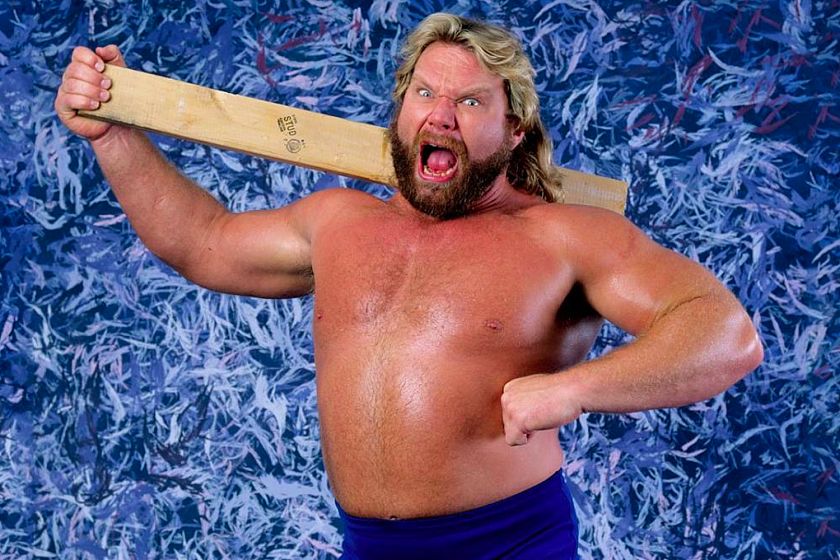 Hacksaw Jim Duggan
Hacksaw Jim Duggan
"Hacksaw" Jim Duggan, is an American professional wrestler. He is signed to WWE on a Legends contract. His best-known character is that of an American patriot, which sees him use a 2x4 length of wood as a weapon, the battle cry "Hooo!" and the U-S-A! cheer. In the World Wrestling Federation (WWF, now known as WWE), Duggan was the winner of the first ever Royal Rumble match in 1988 and in World Championship Wrestling (WCW), he was a one time United States Heavyweight Champion and a one time (and the final) World Television Champion.
Early life and career
Duggan grew up in Glens Falls, New York, where he became a star athlete in high school. Duggan is of English and Scottish ancestry. He was raised Presbyterian. His father was the Chief of police for the City of Glens Falls. Duggan was a letterman in football, track, wrestling, and basketball. In wrestling, Duggan won the New York State High School wrestling championship, unlimited weight class division – the first wrestler from Glens Falls to do so. Upon graduating from high school, he was recruited by Ohio State University, but would instead choose to play football at Southern Methodist University (SMU), where he was eventually voted team captain.[10] After college, Duggan was signed by the Atlanta Falcons of the National Football League, but was released after being plagued by knee injuries.
Early career (1979–1982)
Duggan broke into the professional wrestling business thanks in large part to wrestler Fritz Von Erich. The two met while Duggan was on a recruiting trip to SMU. Duggan's first professional match was in 1979 against Gino Hernandez. Duggan began his career as a villain. Training at the Sportatorium in Dallas, Texas as well as with Samoan wrestling promoter Peter Maivia, Duggan gained the attention of Vince McMahon, Sr. and the World Wrestling Federation (WWF). After a brief stint with the WWF, Duggan began to work regularly for Georgia Championship Wrestling. During this time, Duggan was known by two in-ring aliases: in the United States as "Big" Jim Duggan and in Hawaii as The Convict, a masked wrestler. After wrestling for a Birmingham, Alabama-based promotion, Duggan began wrestling in a promotion based in San Antonio, Texas where he adopted his well-known "Hacksaw" nickname.
Mid-South Wrestling/Universal Wrestling Federation (1982–1987)
In 1982, Duggan made his debut in Mid-South Wrestling. Upon debuting as a heel, and bounty hunter for Skandor Akbar, Duggan soon became a member of the Rat Pack faction, alongside Ted DiBiase, Matt Bourne, and Mr. Olympia. After newcomer "Hacksaw" Butch Reed debuted within the promotion, Duggan and Reed had a personal feud for a time over who would be the true "Hacksaw". The Rats also feuded with stars such as Reed, Magnum T.A. and the Junkyard Dog. During this time, Duggan interfered in a DiBiase/JYD match while wearing a gorilla suit during the Louisiana State Fair, causing JYD to lose a "Loser Leaves Town" match in Shreveport, Louisiana. After DiBiase aligned himself with Skandor Akbar, Duggan refused to go along with him and became a face for the first time in his career. At this time, Duggan began carrying his iconic 2x4. As a fan favorite, he won the Mid-South Tag Team Championship with Magnum T.A. and later won the North American Heavyweight Championship. After the Mid-South North American title was retired when Mid-South became the Universal Wrestling Federation (UWF) in 1986, Duggan lost to Terry Gordy in a tournament final to determine the first UWF World Heavyweight Champion. Duggan then teamed up with Terry Taylor and won the UWF World Tag Team Championship for the second time. After losing a Loser Leaves Town match to the One Man Gang, Duggan left the UWF for the World Wrestling Federation (WWF)
New Japan Pro-Wrestling (1981, 1986)
In August 1981, while still wrestling in Georgia, Duggan toured throughout Japan under New Japan Pro-Wrestling, during their Bloody Fight Series tour, facing Antonio Inoki in the first day of August 21, in a losing effort. Duggan would defeat low-card wrestlers such as Haruka Eigen, Kengo Kimura, Ryūma Gō and Kantaro Hoshino, while losing to main eventers such as Inoki, Tatsumi Fujinami, Seiji Sakaguchi, Strong Kobayashi and Tiger Toguchi. At one point, he teamed up with Bad News Allen to face the teams of Eigen and Gō, in a winning effort, and Choshu and Sakaguchi, in a losing effort. In January 1986, while he was now working under Bill Watts' Universal Wrestling Federation, Duggan would once again venture overseas to New Japan, now wrestling in their New Year Dash tour, coincidentally facing Inoki once again in the first day of their tour in January 3, this time ending in a double count-out. Duggan, a now more established wrestler, was receiving a lot of good results during the tour, clashing with main eventers such as Fujinami, Sakaguchi, Kimura and Choshu to draws, and dominating young lions such as Tatsutoshi Goto and Yang-Seung Hi. He also wrestled tag-team action during the series, teaming with the likes of Tony St. Clair, Johnny Mantell, Black Tiger, Mike Miller and the twin-team of Madd Maxx (1 & 2), with the majority of them being losing efforts. Duggan would tour one last time overseas in September of the same year, wrestling on New Japan's Challenge Spirit tour, resuming his encounters against Inoki, Fujinami, Kimura and Sakaguchi, as well as facing George Takano in tag-team matches, teaming once again with Madd Maxx, Jerry Gray and The Angel Of Death. His last match came against Seiji Sakaguchi in a double count-out.
World Wrestling Federation (1987–1993)
Duggan was signed to the WWF in January 1987, making his first major appearance with the WWF at WrestleMania III, where he also made his pay-per-view debut. In the weeks preceding WrestleMania, Duggan began his first WWF feud with Nikolai Volkoff. At the event, he ran to ringside prior to a match between The Killer Bees and The Iron Sheik and Nikolai Volkoff and interrupted Volkoff's pre-match singing of the Russian national anthem. Duggan had previously done this on TV matches leading up to the event. On May 26, 1987 Duggan and the Iron Sheik were arrested for DUI in New Jersey. Duggan was on the verge of release from the company, but was ultimately brought back in a lower spot on roster. Although he did not win any major titles in the promotion, for seven years he was a consistent fan favorite with his patriotic gimmick. His character was mainly comical, as he rarely was in major contention for titles. His first major WWF match was at the first-ever Survivor Series pay-per-view in 1987, when he participated in the first Survivor Series match and was a member of the winning team.
First Royal Rumble winner (1988–1989)
By the late fall of 1987, Duggan received his first major push since his return, being placed in a feud opposite "King" Harley Race, who was using a monarch gimmick who sneered at wrestlers he thought were below him. Duggan vowed he would never give in to Race's demands to bow to him, and during a televised confrontation, took Race's crown and cape, though Race would later get them back.[citation needed] At the 1987 Slammy Awards, where Duggan presented the nominees for "Best Ring Apparel," an on-stage shoving match between him and the winner (Race), a wild brawl broke out between the two, going backstage and eventually reaching back to the main stage before interrupting another award presentation and Gorilla Monsoon stepping in to separate the two. Duggan eventually defeated Race several times in both televised and non-televised shows. Duggan participated in the first-ever Royal Rumble match in 1988, where he was the 13th of twenty entrants. He won the match after he last eliminated the One Man Gang. At WrestleMania IV, he participated in a 14-man tournament for the vacant WWF World Heavyweight Championship, where he lost to Ted DiBiase in the first round after interference from André the Giant.[19] Shortly after WrestleMania IV, Duggan—upset that André cost him his match—came to the ring during one of André's matches and challenged him; a feud erupted when André suddenly grabbed Duggan and began throttling him, before Duggan knocked André out with his 2x4 board. André generally came out the winner in their matches, usually by interference from André's manager Bobby Heenan. André also interfered in several of Duggan's matches against other wrestlers, including Hercules on the April 30 Saturday Night's Main Event XVI. Duggan earned a shot at the Intercontinental Heavyweight Championship against The Honky Tonk Man in July 1988, but Honky Tonk got himself disqualified, thus retaining the title. Duggan then began displaying traits of an American patriot by feuding with several foreign villains in the fall of 1988. He got involved in a feud with Dino Bravo, and the two were on opposing sides as Jake "The Snake" Roberts' team fought André the Giant's at the 1988 Survivor Series. Duggan was disqualified after he used his 2x4 on Bravo. Duggan's team eventually lost the match. His next feud was with Russian Boris Zhukov, whom he defeated in a flag match on the November 26 Saturday Night's Main Event XVIII. He restarted his feud with Dino Bravo, and at the 1989 Royal Rumble, Duggan and The Hart Foundation (Bret Hart and Jim Neidhart) defeated Bravo and The Fabulous Rougeau Brothers (Jacques and Raymond) in a two out of three falls match. He was involved in a rivalry with Bad News Brown, which culminated in a match at WrestleMania V where both men fought to a no contest
American patriot (1989–1993)
In mid-1989, he started a feud with King Haku, who was awarded the crown on the edition of July 9, 1988 of Superstars when Harley Race was forced to vacate the crown due to injuries sustained in a match against Hulk Hogan on the edition of March 12, 1988 of Saturday Night's Main Event XV. Duggan defeated Haku to win the crown and earn the title of "King of the WWF" on the edition of May 13, 1989 of Superstars. On the May 27 Saturday Night's Main Event XXI, Duggan earned a shot at the Intercontinental Championship against "Ravishing" Rick Rude. Duggan won the match by countout, and Rude retained the title, as a title cannot change hands via countout or disqualification. At SummerSlam, Duggan teamed with Demolition (Ax and Smash) in a six-man tag team match and defeated André the Giant and The Twin Towers (Akeem and The Big Bossman). He eventually lost his crown to "Macho Man" Randy Savage, who began calling himself "Macho King", and started a feud with Savage. At Survivor Series, he captained a team dubbed "The 4x4's" against Savage's team, "The King's Court". Although Duggan eliminated Greg Valentine with his 3-Point Stance Clothesline, Duggan's team lost the match. He faced Savage again on the January 27 Saturday Night's Main Event XXV.[30] Duggan defeated another former rival, Dino Bravo at WrestleMania VI. He began teaming with his former rival, Nikolai Volkoff and started a feud with The Orient Express (Tanaka and Sato), whom they beat at SummerSlam. He began a short feud with WWF World Heavyweight Champion Sgt. Slaughter and faced Slaughter for the title on the February 1 The Main Event V. Slaughter retained the title by getting himself disqualified. In late 1991, he patched up things with Sgt. Slaughter, who had turned babyface, and the pair formed a tag team. At Survivor Series, the duo joined the Texas Tornado and Tito Santana in an elimination match to defeat a team led by Col. Mustafa. On the February 8 Saturday Night's Main Event XXX, Duggan and Slaughter defeated the Beverly Brothers (Blake and Beau). At WrestleMania VIII, he teamed up with Virgil, Sgt. Slaughter, and Big Bossman against The Nasty Boys (Jerry Sags and Brian Knobs), The Mountie, and Repo Man.[36] Slaughter eventually left active wrestling and Duggan continued to pursue his singles career again. In mid-1992, Duggan was moved to undercard status, working with Repo Man in house shows. In early 1993, he was involved in a feud with the then near 600 pound Yokozuna, who was the number one contender to the WWF Championship. Manager Mr. Fuji was bad mouthing America and Duggan challenged his protégé to a match. The match was promoted by claiming that no one had knocked Yokozuna off his feet, even though Yokozuna had fallen off his feet shortly before, during the 1993 Royal Rumble match. The stipulations to the match were if Duggan knocked Yokozuna off his feet, Duggan would win. On the edition of February 6 of Superstars, Duggan won the match after knocking Yokozuna down completely, but then was manhandled by the much bigger Yokozuna after the match and fell victim to four Banzai Drops, sidelining Duggan for about four months. Duggan eventually returned to television and started a feud with then-Intercontinental Champion Shawn Michaels, challenging him for the title on the edition of May 3 of Monday Night Raw. Michaels ran through the crowd, and retained the title by countout. On the next show, to prevent Michaels from pulling the stunt again, Duggan received a return bout in a lumberjack match which Michaels won on a disqualification. As Michaels and the lumberjacks brawled after the match, Duggan came to and cleared the ring with his 2-by-4. Duggan then competed in the King of the Ring tournament, defeating Papa Shango to qualify before losing to Bam Bam Bigelow in the quarterfinals. He continued to appear on WWF programming until the summer, when he left the company after losing several pre-Summerslam matches to Yokozuna.