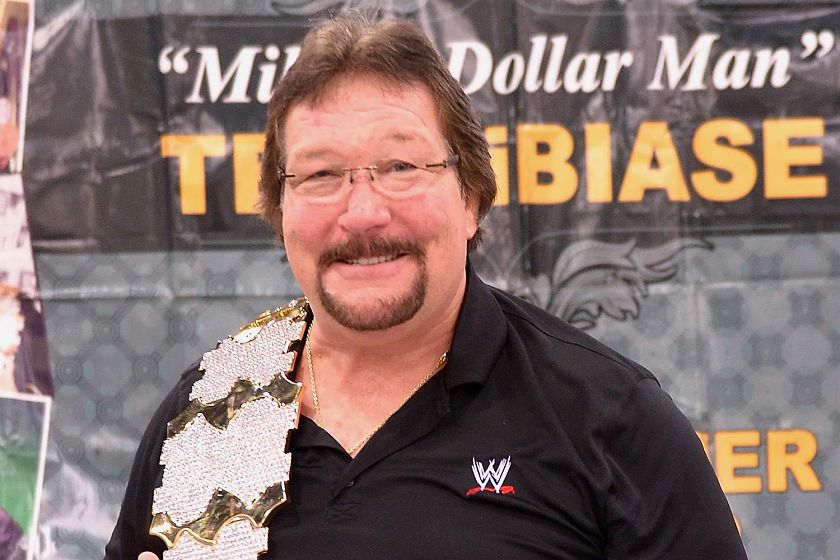 Ted DiBiase
Ted DiBiase
Ted DiBiase is a WWE Hall of Famer (Class of 2010) whose career as a professional wrestler and on-screen manager spanned 25 years. Ted is a second-generation wrestler as both his mother (Helen Hild) and father ("Iron" Mike DiBiase) wrestled professionally. From his time spent as the "Million Dollar Man" in WWF (now WWE), Ted is widely regarded as one of the greatest villains in the history of pro wrestling. A writer for IGN.com called Ted, "one of the most gifted technical wrestlers to ever grace the squared-circle".
During NBC's "The Main Event" TV Special in 1988, Ted bought the WWE World Heavyweight Championship from Andre the Giant in an unprecedented move. Ted was a key figure featured prominently throughout the show. This live primetime TV special garnered 33 million viewers. That is a record in the United States for professional wrestling televised on a broadcast network. After WWE President Jack Tunney declared the title vacant, a tournament was held at WrestleMania IV. Ted faced "Macho Man" Randy Savage in the main event with the winner becoming world champion.
Later that year, in front of a capacity crowd at Madison Square Garden in New York, Ted and Andre (The Mega Bucks) headlined the very first WWE SummerSlam event against Hulk Hogan and Randy Savage (The Mega Powers). Soon thereafter, the "Million Dollar Man" decided to create a custom-made championship. One that would be adorned with diamonds and gold, worth far more than the WWE World Heavyweight title. It was made at Betteridge Jewelers in Greenwich, Connecticut, one of the premier locations for jewelry worldwide. The Million Dollar Championship is the most expensive title in WWE history.
Ted eventually moved into tag-team wrestling. He is a 3-time WWE World Tag Team Champion with Irwin R. Schyster as part of Money Inc. (managed by Jimmy "Mouth of the South" Hart). As a professional wrestler, Ted traveled the world. He wrestled in some of the biggest arenas and stadiums including The Superdome (USA), The SkyDome (Canada), The Tokyo Dome (Japan), and Wembley Stadium (England).
Ted's likeness has been made into items such as action figures, video game characters, and plush wrestling buddies (chosen as part of TIME.com's 'All-Time 100 Greatest Toys of 1980's). His face is on everything from t-shirts, jackets, socks, and trading cards to pinball machines. Ted has appeared on TV shows such as "Live with Regis and Kathie Lee", "Lifestyles of the Rich and Famous", "Arsenio Hall Show", and "Tosh.0".
After retiring from in-ring competition, Ted became a ringside manager and commentator for WWE (beginning of 1994 to spring 1996). The group of wrestlers that Ted managed was called the Million Dollar Corporation. They included "Stone Cold" Steve Austin, Bam Bam Bigelow, I.R.S., Tatanka, and 1-2-3 Kid. Ted finished his career working for Ted Turner-owned World Championship Wrestling (WCW) from fall 1996 to fall 1999. When Ted debuted in WCW, he was revealed as the fourth member and financier of the nWo (New World Order), a villainous group of wrestlers led by "Hollywood" Hulk Hogan.
Ted is a published author of two books, 'Every Man Has His Price: The True Story of Wrestling's Million-Dollar Man' and 'Ted DiBiase: The Million Dollar Man'. He is now a full-time evangelist and motivational speaker. Ted is an ordained minister and founder of Heart of David Ministry. He speaks at church services, conferences, youth groups, men's meetings, rehabilitation centers, corporate businesses, public schools, and universities all over the world. Ted is married to his lovely wife Melanie of 38 years. They have three sons: Michael, Ted Jr., and Brett.