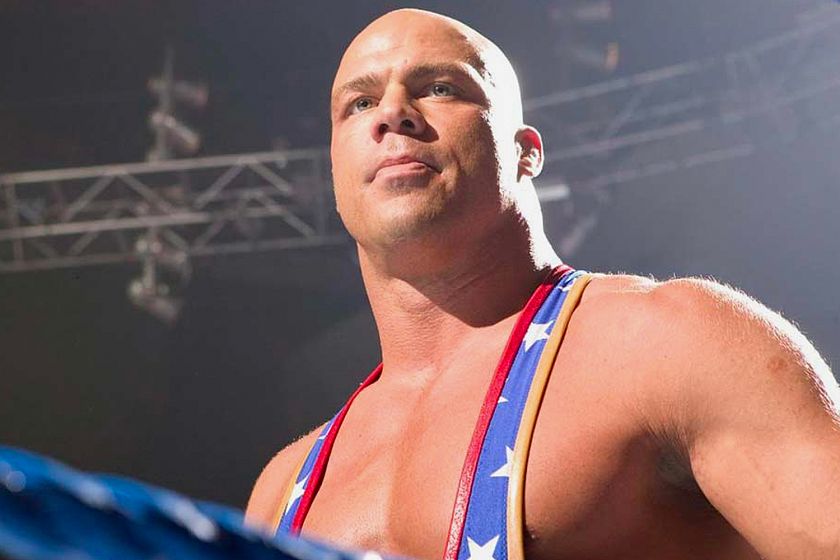 Kurt Angle
Guest of Honor
Kurt Angle
Guest of Honor
"My Dream Was To Win An Olympic Gold Medal."
These are the words of the award-winning man of impossibilities, Kurt Angle, after having won the Olympic Gold Medal in 1996, numerous pro wrestling titles, and induction into the TNA and WWE Halls of Fame.
Kurt claims this was his dream from as early as the age of five, but never did he dream it would turn out to be so much more than that. While Kurt is known for amazing achievements all throughout his life as an amateur and pro wrestler, his path was filled with personal difficulties, obstacles, and hurdles he had to overcome every step of the way. All have helped to shape exactly who he's known as today: a man of unstoppable force.
His story begins in Mt. Lebanon, Pennsylvania, where he was born on December 9th, 1968 the youngest of five children. From a young age, he was influenced by his older brothers, who often played and roughhoused with one another, eventually joining in himself as he grew older.
It was his boisterous childhood, the influence of his older brothers who wrestled, and his determination to step out from under their shadows that got him into wrestling and football in high school. There, he got his first taste of winning, becoming an All-State linebacker and placing #1 in the 1987 Pennsylvania State Wrestling Championship during his senior year. But it was just two years prior, when Kurt was 16, that he lost his father in a tragic work accident.
Kurt responded to this catastrophic loss by doing what he's always done best—focusing on his goals, even having an amazing football performance the same week his father passed. In fact, Kurt often says that his father's passing was one of the main reasons he was able to grow into the man he became in subsequent years. As he once said in his autobiography, "I grew up and overcame my fears the day my father died. I vowed right then and there to become a champion, to do whatever it took."
After high school, Kurt attended Clarion University, winning countless wrestling championships. Upon graduating in 1993, he had hoped to move into professional football, trying out for his favorite team, the Pittsburgh Steelers, as a fullback. Although he thought his tryout went well, he was not offered a contract. Instead of attending the Steelers joining a practice squad, he decided to return his focus to wrestling. This led to his first gold medal at the FILA Wrestling World Championships and a spot at Foxcatcher, giving him the opportunity to train under the legendary Dave Schultz.
Dave Schultz, who won Olympic gold in 1984, helped Kurt train for the '96 Games, but sadly never got to see his protégé triumph. On January 26th, 1996, Dave Schultz passed under tragic circumstances. Kurt was devastated and dedicated himself to honoring his trainer's memory as best he could. Kurt left Foxcatcher and joined the David Schultz (DS) Wrestling Club, formed in Dave's memory by his wife, Nancy Schultz.
During the semifinals of the national trials, just three months before the Olympics, Kurt broke his neck. Even while in excruciating pain, he fought on to win the national championship and a ticket to the final of the Olympic trials. The next day, an MRI revealed two bulged and herniated disks, two cracked vertebrae, and pulled muscles in his neck. His doctor ordered him to rest and heal for at least six months, which would have taken him out of the Olympics.
Putting his Olympic dream above his health, Kurt found a doctor who was, in his words, "Either smart enough or stupid enough to allow me to wrestle." On July 29th, 1996 Kurt won the Olympic Gold Medal, having notoriously achieved it with a "broken freakin' neck".
Following his gold medal achievement, Kurt appeared on The Today Show, The Tonight Show with Jay Leno, and numerous other broadcasts, celebrating his win and sharing his story. His face appeared on the front page of newspapers and magazine covers across the country, and he even met with President Clinton at the White House. After the thrill of the win and the fame died down, Kurt was left wondering what he was going to do next.
He was offered a job as a sportscaster for the Pittsburgh-based television station WPGH-TV and after a year, decided that it wasn't for him. He knew he wasn't done with being an athlete.
In 1998, he was inducted into the Clarion University Sports Hall of Fame and transitioned into professional wrestling at WWF, where he quickly skyrocketed to success.
It was this same year that he married Karen Smedley and went on to have two children. He later became the first wrestler ever to hold the WCW and WWF Championships during the same calendar year, earning the status of one of the most widely recognized wrestlers of all time.
After a world-renowned eight-year career with WWF and WWE, Kurt's journey continued with TNA in 2006, going on to become the second-ever TNA Triple Crown Champion in the promotion's history and the first to hold all three TNA championships simultaneously.
As all of Kurt's success unfolded, most were unaware that he was struggling with drug and alcohol addiction. In addition to his neck injuries, herniated discs, and pulled muscles endured during his amateur career, he suffered many more injuries as a pro wrestler which exacerbated his pain and left him addicted to pain killers and alcohol.
He married Giovanna Yannotti in 2012 and in 2013, he announced on Twitter that he was going to rehab, stating, "I realize that this is a pivotal time in my life and I ask for your understanding as well as your prayers and continued support." Kurt's successful stay at rehab allowed him to overcome his drug dependency for good, and he remains clean to this day. He credits the importance of his wife and family to his unwavering resolve to never go back.
In 2013, Kurt was inducted into the TNA Hall of Fame and retired from TNA in 2016. On March 31, 2017, Kurt was inducted into the WWE Hall of Fame. In April of 2019, he retired from professional wrestling and works as a backstage producer for WWE. Kurt also works as an actor and stunt coordinator for movies and television
Kurt—in his life, career, trials, and triumphs—has accomplished everything he's set out to do despite the overwhelming odds against him, living his dreams and surviving his nightmares.
Kurt's unwavering endurance and an unstoppable spirit are an inspiration to many.