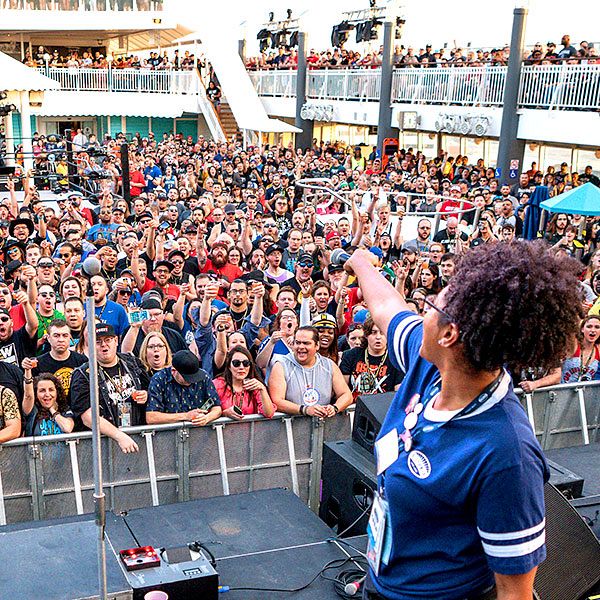 Triple Whammy Booking
Tuesday, April 21, 2020
Questions on when you can book and how booking order is determined?
Your Earliest Booking Time (or EBT, since we're all old friends now) is your first chance to book your stateroom. We spread them out over several days to provide you the best possible guest service experience during the booking process. Once you've been emailed your EBT, you may book at the assigned time, or anytime thereafter.
I sailed in 2020…
Chris Jericho Cruise 2020 alumni has automatically been signed up for the pre-sale and assigned an Earliest Booking Time. They are assigned in order, sorted by most times on Chris Jericho Cruise, then by order of booking last year. Once your EBT is here, you'll be able to book at your assigned time or anytime thereafter.
I sailed in 2018 but missed out on 2020…
We're giving all 2018 alumni the opportunity to book before new guests. No need to sign up for the pre-sale, you've automatically been signed up! Your EBT has been sent via email and you'll be able to book as early as May 4th or anytime thereafter.
I've never sailed on the Chris Jericho Cruise...
New guests must join the pre-sale, and will be emailed an EBT after full festival details are announced. EBTs will be emailed in the coming weeks and assigned in the order they sign up.
Once the pre-sale ends, the general public will be able to book.
Please Note: Being a part of the pre-sale does not guarantee that staterooms will be left for purchase when it's your time to book. If the event sells out before your Earliest Booking Time arrives, you will be able to join the Waiting List at your Earliest Booking Time.